House Impeachment Managers: Trump "Singularly Responsible" for Capitol RIOT!
Former President Trump, who has lied since day one in office, continues to be a bitter betty about losing the election fair and square. He was so angry he convinced his minions to attack the Capitol, therefore, he NEEDS to be impeached so NONE of us have to endure him trying to run for president in 2024.
That is the only reason why the Republican Party continues to deny the truth and say impeachment should be off the table. See, Trump's dictator style Presidency has made the Republican Party look stupid, so they are trying to save face and back the orange-skinned antagonizer.
What is most disturbing is that Trump had always been a Democrat until Obama won office. He instantly switched to being a Republican, so right there Donald proved he was a racist bigot. Read on for more details since Trump Responsible Capitol RIOT…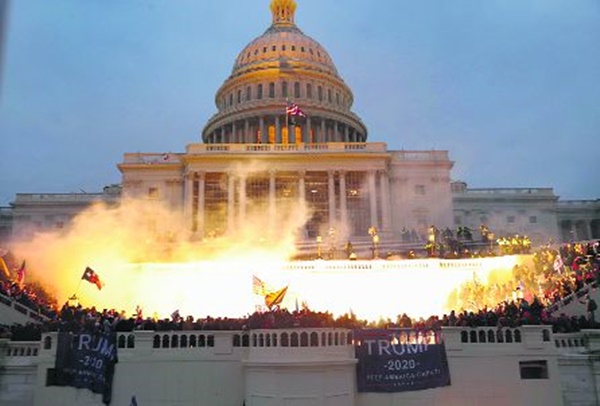 Anyways, CelebnPolitics247.com reports that in a memorandum filed ahead of the second impeachment trial of former President Donald Trump, the House Democrats who will prosecute the case argued that Mr. Trump was "singularly responsible" for the January 6 attack on the U.S. Capitol by a mob of his supporters that left five people dead.
On January 6, a mob of insurrectionists overran the Capitol in a deadly assault with the goal of overturning the election results, as Congress met to reaffirm President Biden's Electoral College victory.
In a pre-trial brief filed Tuesday, the House impeachment managers make the case that Mr. Trump encouraged this attack by repeatedly refusing to concede the election while promoting baseless claims about voter fraud and encouraging his supporters to challenge the results.
The managers said in their 80-page brief, adding that the former president's "conduct must be declared unacceptable in the clearest and most unequivocal terms." – CBS News
They determined:
President Trump's responsibility for the events of January 6 is unmistakable!
The nine Democratic managers, led by Congressman Jamie Raskin, a lawyer from Maryland, said the Senate has an obligation to hear the case against Mr. Trump, despite some Republicans arguing that it is unconstitutional to hold a trial for a president who is no longer in office.
The managers wrote:
President Trump endangered the very constitutional system that protects all other rights, including freedom of expression. It would be perverse to suggest that our shared commitment to free speech requires the Senate to ignore the obvious: that President Trump is singularly responsible for the violence and destruction that unfolded in our seat of government on January 6.
Mr. Trump's campaign launched lawsuits challenging the election results in several states, but these efforts failed. Even federal judges who had been nominated by Mr. Trump found that his attempts to overturn the election were invalid.
The impeachment managers argued that Mr. Trump "fixated" on January 6 after it became clear that his campaign's efforts to challenge the election with lawsuits would fail.
This is why we will continue to state that Republicans are turning a blind eye to the truth that their leader was so angry he lost, he turned to terrorist tactics using his influence on the weak-minded racist Republicans.