Kanye West Cries Over Harriet Tubman During Presidential Campaign!
It's happening, America has another celebrity running for President 2020 and this is for the birds, cook coo birds that is! Read on to watch as Kanye West cries over Harriet Tubman during his South Carolina appearance…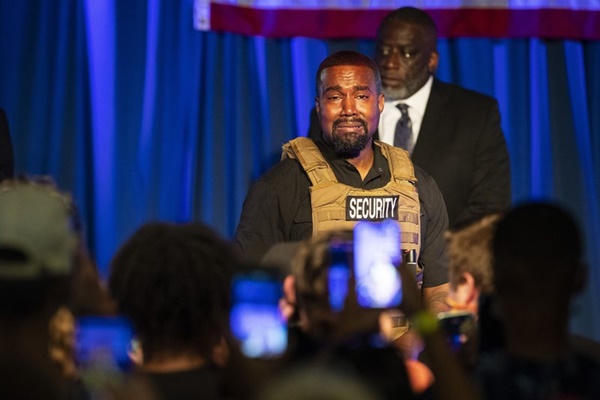 CelebNPolitics247.com reports that rapper, fashion designer, producer, and now Presidential candidate, Kanye West is running for President.
Why, Kanye, Why?
The one thing that West gets out of this is that he is the first black rapper to run for president after declaring himself a presidential candidate.
According to reports, Kanye West spoke about his marriage to Kim Kardashian and the birth of their first child, North West during his first campaign rally in South Carolina. The rapper stated, when Kim Kardashian became pregnant with their eldest daughter, North West, he told her to get an abortion. "I almost killed my daughter," West said according to reporters at the event. The rapper also admitted that he himself might have been aborted, had it not been for his mother Donda saving his own life.

During the same rally, the rapper also said Harriet Tubman 'never actually freed the slaves' and suggested every person who has a baby receives $1 million.
And in typical Kanye West fashion the rap star and Keeping Up With the Kardashian's husband RANTED against historical figure Harriet Tubman on Sunday, saying the Underground Railroad conductor "never actually freed the slaves, she just had them work for other white people."
Kanye West crying on stage at his campaign event in South Carolina pic.twitter.com/GsHAnZQG1c

— STRAPPED | Hip-Hop/Rap Updates (@STRAPPEDUS) July 19, 2020

His RANT drew shouts of opposition from some in the crowd.
West delivered a lengthy monologue, touching on topics from abortion and religion to international trade and licensing deals, before a crowd in North Charleston, South Carolina. Whether he is actually seeking the nation's highest office remains a question.
Kanye West was dressed in military attire with a bulletproof vest on like 50 Cent's first album 'Get Rich or Die Tryin' – of course, rap heads and fans of West will be voting for him because he's cool and they love his music.
View this post on Instagram
Ye said he stands for NO WAR, PEACE, AND to ABOLISH HOMELESSNESS in America.
Sounds great right? Well, let's NOT FORGET that the White House is filled with Republicans and Democrats NOT Independents. And NO Independent in history has ever won a Presidential campaign.
If Kanye somehow wins, Ye will NEVER GET ANYTHING PASSED because Republicans and Democrats WILL NOT ALLOW IT!
West is running to add another title to his belt, as well as make history as the first black rapper to run for president.
Do you want to see Kanye West as your President and Kim Kardashian as your First Lady?
This is what it would look like.
View this post on Instagram
What would be next – Sunday Service at the White House every Sunday? Oh, That won't go down to well, this is Ye's vision of himself as President.
In the photo, you might notice we are all supposed to be in blue chanting and worshiping Kanye West.
This is NOT who or what you want as a President.
View this post on Instagram
Pay attention Americans, don't be fooled. This is the Illuminati hard at work.