Trump Caught Gasping For Air After Testing Positive For COVID!
Just days after testing positive Trump is heading back to work after only being treated for a three-night hospital stay for COVID. Read on and watch Trump GASPING Air…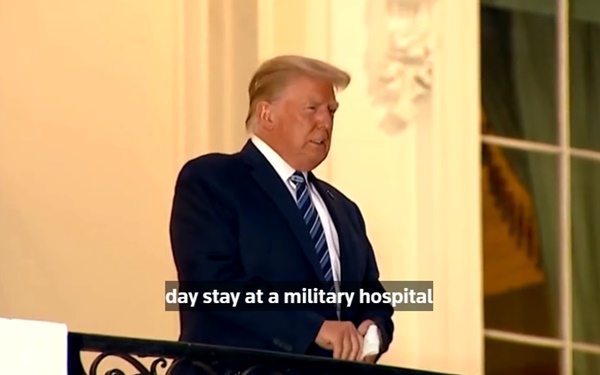 CelebnPolitics247.com reports that President Donald Trump told Americans "to get out there" and not fear COVID-19 as he returned to the White House on Monday.
According to Trump, he feels that he is in the right to go back to the hospital and putting his staff at risk. He feels that its perfectly fine to do so and in saying that, he removed his white surgical mask to pose for pictures.
Shortly after his return, a video surfaced of the president's discharge from Walter Reed hospital three days after being admitted with COVID-19 symptoms.
He wrote:
I will be leaving the great Walter Reed Medical Center today at 6:30 P.M. Feeling really good! Don't be afraid of Covid. Don't let it dominate your life. We have developed, under the Trump Administration, some really great drugs & knowledge. I feel better than I did 20 years ago!

— Donald J. Trump (@realDonaldTrump) October 5, 2020
This has led some to ask whether the decision to leave the hospital so soon after his diagnosis was premature. Trump's doctor, Sean Conley, told the Associated Press the president remains in "uncharted territory" after receiving an experimental treatment for COVID-19.
#celebnpolitics247 #Trump #Gasping for air after testing positive for #COVID19 now he's going back to work in #WhiteHouse ? https://t.co/uH11xhYDru

— CNP24_7 (@Cnp24_7) October 6, 2020
Trump said in a recorded video message while downplaying the virus that has killed more than 1 million people worldwide and more than 209,000 in the United States alone – the highest death toll of any country.
He said:
Don't let it dominate you. Don't be afraid of it. We're going back, we're going back to work. We're going to be out front. … Don't let it dominate your lives. Get out there, be careful.
Meanwhile, a White House physician points out "[Trump] may not entirely be out of the woods yet."
Dr. Sean. P. Conley, the White House physician, said:
He may not entirely be out of the woods yet…If we can get through to Monday with him remaining the same or improving, better yet, then we will all take that final, deep sigh of relief.
This is a joke. Having the President return to work is frightful. It also proves that if he was treated and it got rid of his virus then there is a cure that should be given to all who test positive with COVID, not just Trump.
We question the hospitals for not administrating this to sick patients everywhere.
Pay attention world. See how the hospital only caters to important and rich people. Conley noted that Trump will be getting the world's top medical attention. While the general public is left to suffer? Do NOT vote for Trump he is a virus infecting this country worse than COVID! Where is that fair?