The World Celebrates Biden Harris President-Elect Win!
As of this morning, it is official that the Democratic party has won the presidential race for 2020 against Donald Trump. What is sad is that Trump continues to lie about the ballots trying to claim there were illegal ballots added. There were NEVER any added the ballots were all mailed in and legal, Trump is trying to hold on to his throne but his reign of terror and divide of the country is OVER! Read on…
I know black culture is proud! This is historic… pic.twitter.com/IoH5hJYLJX

— Angela Stanton King 🇺🇸 (@theangiestanton) November 8, 2020
CelebnPolitics247.com reports that Joe Biden and Kamala Harris have won. Biden is the 46th President of the United States.
What is crazy is that the world has taken to social media to congratulate Biden and Harris for beating Trump. Especially Harris for becoming the first Black-Asian female Vice President.
Biden said during his speech said speaking of Trump's previous four years, "let this grim era of demonization in America begin to end."
As soon as it was stated that Biden won the election, people were dancing in the streets.
Then, the world started congratulating Biden for winning. This is something that didn't happen when Trump won. Since the start, Trump has lied about everything, and nothing has changed. Now, Trump is looking like a fool refusing to concede.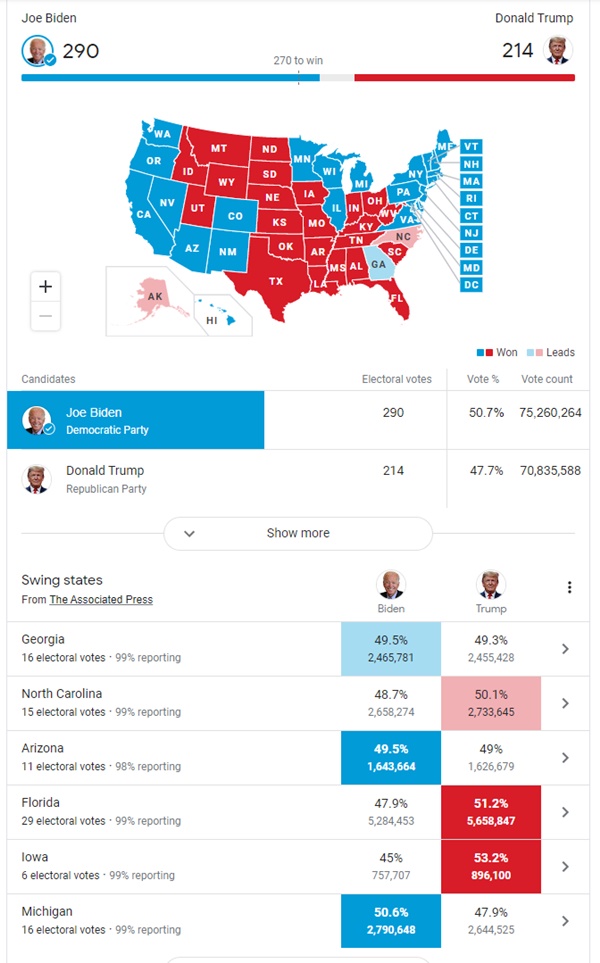 Take a look at the tweets from around the world:
Heartiest congratulations @KamalaHarris! Your success is pathbreaking, and a matter of immense pride not just for your chittis, but also for all Indian-Americans. I am confident that the vibrant India-US ties will get even stronger with your support and leadership.

— Narendra Modi (@narendramodi) November 7, 2020
Congratulations to President-Elect @JoeBiden and Vice President-Elect @KamalaHarris. My best wishes to the people of the United States and I look forward to working together to continue strengthening the friendship between our countries

— تميم بن حمد (@TamimBinHamad) November 7, 2020
We congratulate President-Elect @JoeBiden and Vice President @KamalaHarris and the American people on your election. We look forward to working with you and deepening our bonds of friendship and cooperation. pic.twitter.com/aajOxmL8KI

— Cyril Ramaphosa 🇿🇦 #StaySafe (@CyrilRamaphosa) November 7, 2020
Congratulations @JoeBiden and @KamalaHarris pic.twitter.com/xrpE99W4c4

— Boris Johnson (@BorisJohnson) November 7, 2020
Congratulations to the President-Elect of the United States @JoeBiden and Vice President-Elect @KamalaHarris . We look forward to strengthening our five-decade enduring and strategic relations. pic.twitter.com/DiBiXu7JMh

— HH Sheikh Mohammed (@HHShkMohd) November 7, 2020
I take this opportunity to congratulate Mr. @JoeBiden, 46th President-elect of the United States of America. I also express my hope that his election will be a springboard for the strengthening of the ties of friendship between Burundi and USA. May God bless him and bless the US!

— SE Evariste Ndayishimiye (@GeneralNeva) November 7, 2020
Continue on to see more congratulations from around the world…