Election Results: Joe Biden Turns Georgia Blue!
It's happened JOE BIDEN TAKES GEORGIA!
The state of Georgia is just 423 votes away from turning the state from red to blue. That would mean if Joe Biden gets Georgia that would be another 16 electoral votes for the former Democratic Vice President.
With Georgia, Nevada, and Arizona, Joe Biden will have a total of 286 – There will be NO WAY Trump can win and he knows it. Read on…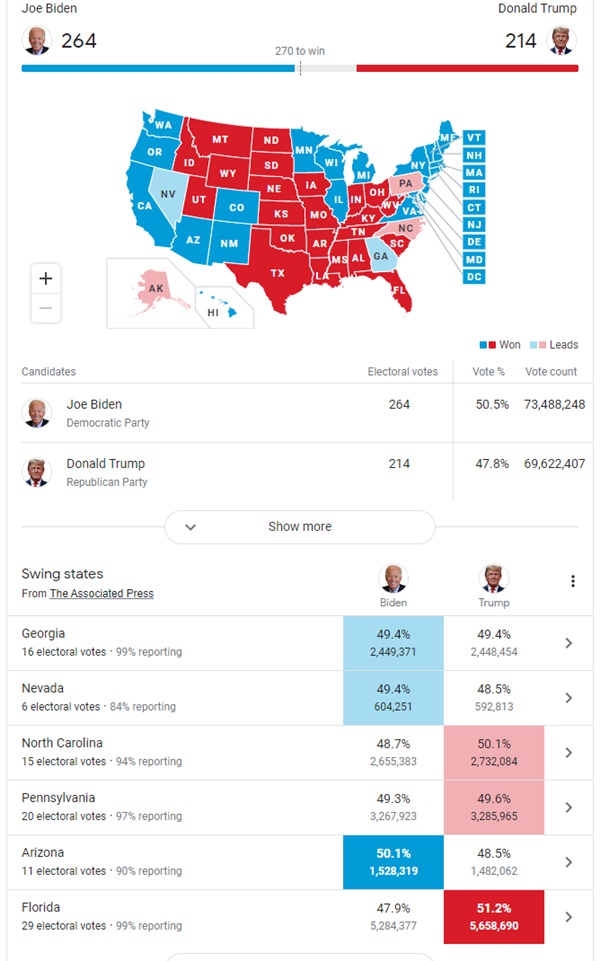 CelebnPolitics247.com reports that Joe Biden has proved to be the President our country needs after the past 4 years of hell Trump has put the country in.
Biden took to social media to tell everyone to have faith:
Keep the faith, guys. We're gonna win this.

— Joe Biden (@JoeBiden) November 4, 2020
Joe Biden is leading in Nevada and Arizona and threatening to erase President Trump's advantages in Pennsylvania and Georgia.
All we have seen during Trump's reign of terror since 2016 is police brutality against people of color, racist remarks from the President, A rise is lots of racism, and a divide amongst the people of the United States.
Here's what you need to know:
As the counting continues, Biden cuts into Trump's lead in Pennsylvania and Georgia.
Closing in on 270: Here is where things stand in the states that could decide the presidency.
As Trump's lead shrinks in Pennsylvania, the top elections official says 'several hundred thousand' votes need counting.
Democracy 'sometimes requires a little patience,' Biden says.
Trump lies in the White House briefing room, and the networks pull the plug.
The Electoral College is close. The popular vote isn't.
Arizona: Biden's lead narrows in last release of totals Thursday.
Lawmakers loyal to Trump defend his false claims of voter fraud, while other Republicans remained silent.
Trump has been dismantling our Democracy and the rest of the world has been laughing at us while eating popcorn.
Here are the Election results [This is how they looked while we began writing this post]: