Trump Tweets Show He Is A Sore Loser!
President Trump may be saying goodbye to the White House way sooner than he anticipated and he is NOT like one second of it. Read on to see what he's been tweeting since absentee ballots are putting Joe Biden in the win position for President.
All Ballots NEED TO BE COUNTED and Trump is trying to lie, cheat and sway his minions to believe there is some type of conspiracy when there is NOT.
The Ballots are from voters who didn't want to leave their homes because there is a coronavirus pandemic. You know the disease that Trump believes he is now immune from. Read on to see the Tweets…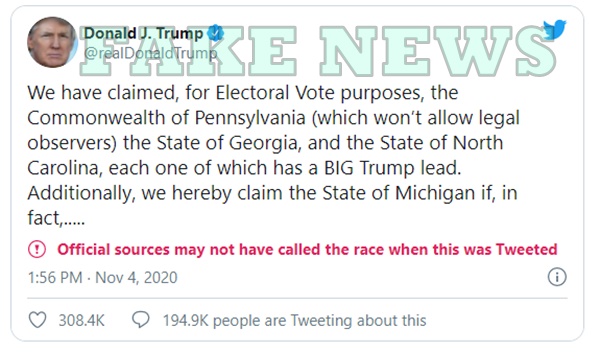 CelebnPolitics247.com has the latest Tweets from Trump and he just can't stand it that Joe Biden is taking the lead and he is losing.
Trump is strategically putting these tweets out there so he can try and sway a judge to believe his utter BS.
This is just like Bush Jr. when he b-tched and moaned about Gore winning Florida, so they cheated and won the White House. Since then Americans haven't believed in voting until this year. It took the people to realize that they screwed up with Trump and now they want him out of office.
Here are the Trump Tweets:
We are winning Pennsylvania big, but the PA Secretary of State just announced that there are "Millions of ballots left to be counted."

— Donald J. Trump (@realDonaldTrump) November 4, 2020
Wow! It looks like Michigan has now found the ballots necessary to keep a wonderful young man, John James, out of the U.S. Senate. What a terrible thing is happening!

— Donald J. Trump (@realDonaldTrump) November 4, 2020
This is hilarious. Trump tries to claim they are finding ballots for Biden. Does he forget these are absentee Ballots that are being counted on the day of the election because he was the one who said no counting until Nov. 4th? what an idiot.
They are finding Biden votes all over the place — in Pennsylvania, Wisconsin, and Michigan. So bad for our Country!

— Donald J. Trump (@realDonaldTrump) November 4, 2020
Trump asks:
How come every time they count Mail-In ballot dumps they are so devastating in their percentage and power of destruction?

— Donald J. Trump (@realDonaldTrump) November 4, 2020
The answer is that Americans want you out of office and we all voted for the other guy: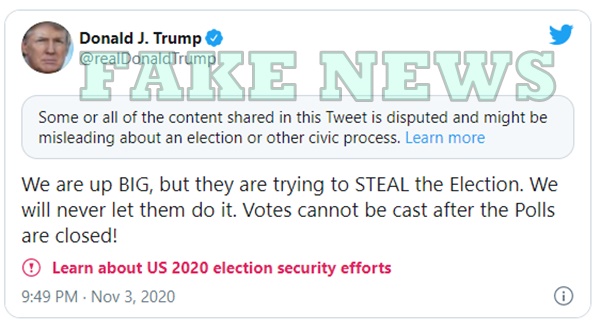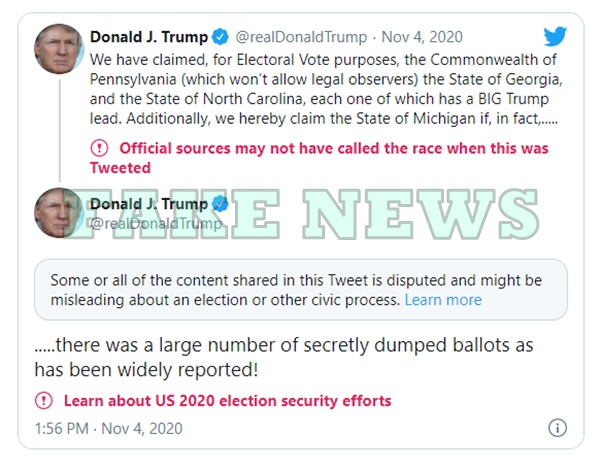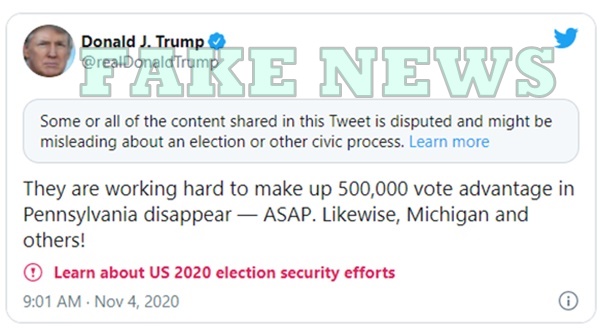 Our lawyers have asked for "meaningful access", but what good does that do? The damage has already been done to the integrity of our system, and to the Presidential Election itself. This is what should be discussed!

— Donald J. Trump (@realDonaldTrump) November 4, 2020