OC Democrats Want John Wayne Airpot Statue Removed!!
The Democratic Party of Orange County, California, is pushing to remove John Wayne's name and statue from the county's airport.  Their reason is the fact the John Wayne said some racist comments about the black community. Read on for details why John Wayne Airport Statue should be removed…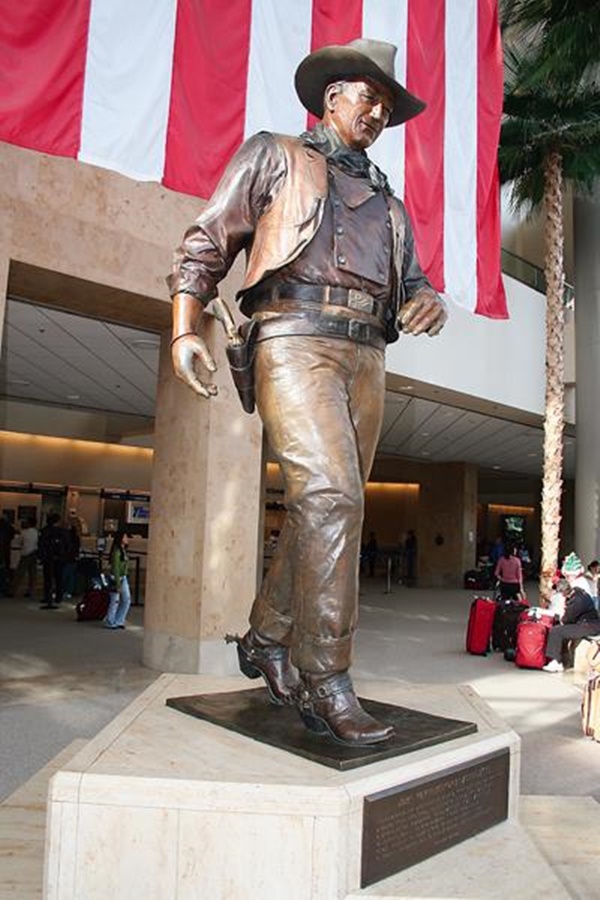 CelebNPolitics247.com reports that the Democratic Party of Orange County passed a resolution last week condemning "white supremacist, anti-LGBT and anti-Indigenous views."
Film legend and the king of the Western movies and the golden era of Hollywood, John Wayne made many insensitive comments towards the black, LGBTQ and Native American communities.
What John Wayne Said Toward Blacks, LGBTQ, + Native Americans:
Back in 1971, Wayne infamously said:
I believe in white supremacy until the blacks are educated to a point of responsibility. I don't believe in giving authority and positions of leadership and judgment to irresponsible people.
John Wayne also said he didn't condone slavery, but:
I don't feel guilty about the fact that five or 10 generations ago these people were slaves.
He went on to say he felt no remorse in the subjugation of Native Americans.
I don't feel we did wrong in taking this great country away from them. … [O]ur so-called stealing of this country from them was just a matter of survival. There were great numbers of people who needed new land, and the Indians were selfishly trying to keep it for themselves.
When it comes to other films back in the 70s like "Easy Rider" and "Midnight Cowboy." He felt the films were perverted and used a gay slur to refer to the two main characters of the latter film.
It's NO SHOCK that John Wayne's racist and prejudice comments are outliving his film reputation. Therefore, his statue is on the chopping block to be removed and the U.S. is trying to reshape this country.
Why John Wayne Name + Statue Needs to Be Removed from OC Airport:
Ada Briceño, chair of the Democratic Party of Orange County, said:
An international airport that welcomes millions of people each year should not be named for someone whose beliefs oppose our nation's values of equal opportunity and justice for all.

The effort is part of "a national movement to remove white supremacist symbols and names" that is "reshaping American institutions, monuments, businesses, nonprofits, sports leagues, and teams, as it is widely recognized that racist symbols produce lasting physical and psychological stress and trauma particularly to Black communities, people of color and other oppressed groups, and the removal of racist symbols provides a necessary process for communities to remember historic acts of violence and recognize victims of oppression," the resolution says.
If you get a chance, you might want to snap some photos by the John Wayne statue before its removed.
The resolution also asked the board "to restore its original name: Orange County Airport."