Why Juneteenth 2020 Is A Day Celebration + Protest!
Juneteenth 2020 mean so much more this year compared to the previous years. Especially since 2020 has been a year of social awareness and protest due to police brutality and a president who displays that racism is OK.
Racism and police brutality are NOT OK and Americans (Black, Brown, and white) have been speaking out in peaceful protest. Though, police continue to deem otherwise. Continue on…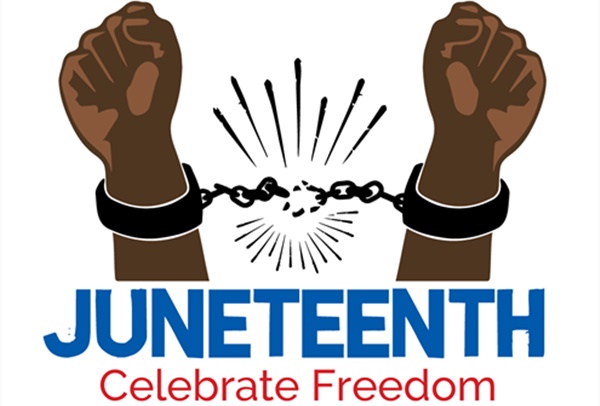 CelebNPolitics247.com reports that this week peaceful protest around the U.S. continue, but innocent American have been arrested because they are standing up for what is right!
In California, Bay area police arrested peaceful protestors on the Bay Bridge. For more than two hours, drivers were stuck on the Bay Bridge Sunday afternoon as Black Lives Matter protesters blocked all lanes of the upper deck.
They targeted the Bay Bridge and painted #BLM on the upper deck of the Bay Bridge.
Dayanara Thompson, who was one of more than 20, who were arrested for unlawful assembly said via ABC 7 News:
Through Black Lives Matter, and every protest we do, we are shedding light on the silent genocide that happening within the United States.
It's time to take the old San Francisco back and get equality back in the bay. This has been the fight for everyone around the U.S. – It's time for tolerance and acceptance. Stop police brutality and inequality. Which brings us to Juneteenth 2020
That is just one of the protest that made headlines this week. It is also a main reason why celebrating the Juneteenth holiday is important.
Why Juneteenth 2020 means so much more!
Juneteenth is the celebration of the day in 1865 that all enslaved black people learned they had been freed from bondage.
African American families across the nation celebrate Juneteenth with cookouts, parades, community festivals, and soulful rendition of "Lift Ev'ry Voice and Sing."
Juneteenth in 2020 will be celebrating Black Live Matter as well since the rise in police brutality is at an all time high.
In addition, the coronavirus ravishes black America disproportionately, as economic uncertainty wrought by the pandemic strains.
2020 will mark Juneteenth is a day of protest. Since police brutality continues to devastate black families.
Cornell University professor Noliwe Rooks, a segregation expert said to the Washington Examiner:
This is one of the first times since the '60s, where the global demand, the intergenerational demand, the multiracial demand is for systemic change. There is some understanding and acknowledgment at this point that there's something in the DNA of the country that has to be undone.

Friday's celebrations will be marked from coast to coast with marches and demonstrations of civil disobedience, along with expressions of black joy in spite of an especially traumatic time for the nation.